For someone who remembers the 70s and 80s and listening to music on cassette tape, this coffee table design could be a perfect DIY project.
Who else remembers recording their favourite songs off the radio, making a mixtape to give to someone special, needing a pencil to rewind unwound tape, or those unfortunate times when the cassette player was hungry and decided to have a chew that often ruined your songs forever?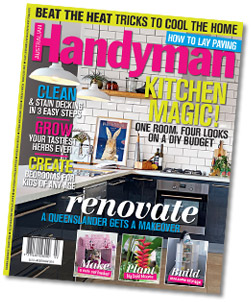 This faithful recreation of the classic Philips Compact Cassette, made in plywood with clear acrylic top for durability, it will take you on a trip down memory lane and also be a fantastic talking point when friends come over. It even has spools!
And to give this wicked piece of furniture the ultimate finishing touch, the designer chose four Leggz Round Chrome Legs, cut to size, to give this beautiful work of art a stylish look that will sit pride of place in the lounge room.
Radical!
We have a variety of furniture legs for tables in different sizes and widths, and in metal and timber. Our metal legs are available in a variety of colours and finishes, whilst the timber legs are ready to stain or paint how you like.
This '80s Greats' project was in the February 2016 issue of Handyman magazine. You can view the introductory article here and get the templates and instructions here.
Don't forget to rewind when you've finished!